PROFILE
Roubi L' Roubi – Creative Director, Huntsman, Savile Row

The internationally acclaimed couturier Roubi L'Roubi has dressed some of the world's most influential men and women and created collections for many great names, including Holland & Holland and Henry Poole. He launched his eponymous label on New Bond Street in 2004, and became owner and Creative Director of Huntsman in January 2013.
Before entering the trade, Roubi gained a degree in mechanical engineering at London's Imperial College. This engineering background helped him develop an appreciation and understanding of form, fit and structure which he then put into practice working as a cutter and fashion designer. His academic training can be seen throughout his designs; every Roubi L'Roubi creation is exacting and structured, with comfort and wearability at its heart and crafted to strengthen or flatter the physical form.
His understanding of movement and fluidity has been acquired through a genuine love of nature. Roubi, a skilled equestrian, is a respected owner of champion dressage horses, with his Holstein stallion, H-Ekwador competing in the 2012 London Olympics and in training for the 2016 Olympics in Rio de Janeiro.
Roubi does not believe in seasonal trends, but in dressing appropriately for every occasion. His elegant style and classically simple lines have earned him recognition from his peers demonstrated when he was invited to judge the industry's prestigious Golden Shears awards for young tailoring talent.
A lover of history and heritage, Roubi collects antique books, paintings and archives and is currently developing a new series of ready-to-wear collections based on a detailed examination of photography and patterns from the Huntsman archives from the past 160 years. This includes suits, shirts and dinner jackets created by his predecessors at Huntsman for Hollywood legend Gregory Peck.
Through shaping new collections which have evolved from the silver screen era, Roubi remains ever loyal to the distinctive Huntsman silhouette – and by increasing the womenswear collections and introducing new bespoke pieces, from blouses and coats to striking silk gowns, he is committed to widening the brand's appeal.
Most recently, his skill at designing for the feminine form has seen Roubi's profile soar in LA. Recently accepted into the Hollywood Guild of Costume Designers, his film credentials are further endorsed by the release of 'Nina', featuring exquisite period designs for Zoe Saldana – the actress playing legendary songstress Nina Simone.
With his huge respect for Huntsman's traditions and the precision and skill of tailoring on The Row, Roubi is passionate about preserving and developing the learnings of his trade.
By combining his rare expertise as a designer maker who is also able to cut his own patterns, with a keen interest in technology, Roubi has introduced modern innovations to Huntsman. Working with tablets synched with the brand's new website, Roubi has brought technology and CAD to Huntsman, to drive the business forward for the 21st century.


Dedicated to the highest standards of excellence in men's and women's tailoring and country wear.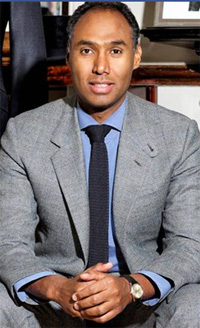 For further information
on Huntsman, visit
h-huntsman.com or contact:
Roubi L'Roubi
roubi@roubi.eu